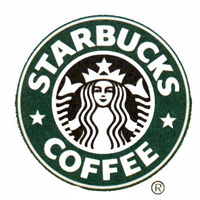 Bad idea: Trying to pretend that your kid's accident in Starbucks is just a beverage spill. That doesn't work.
Last Friday I took Miles for a post-haircut milk at Starbucks. It had been too long since his last trip to the potty but Ava needed to nurse so I forgot to take him. Sure enough, while sitting at a table with his soy milk a torrential peepee let loose from his pants. I scooped him up into the bathroom, followed by Ava in her stroller, and then leaned over to the barrista and told him we'd had a "spill."
In a sense, it wasn't a lie. Peepee did "spill" out from my son's bladder. Did the barrista really need to know the origin of the liquid in question??
I changed Miles and sat him down at another table with his milk and whipped out the Hooter Hider to finish nursing Ava, who was being patient but was starting to get restless. If she hadn't needed to eat, I would probably have taken Miles' milk to go! But I sat there while a rather large, bearded, red-headed, round-faced man wheeled a mop to the location of Miles' "spill."
As he started to clean, Miles noticed him, pointed, and said VERY loudly, "That guy clean the peepee!!"
I have never blushed quite so crimson. I nodded, "Yes he did," I said under my breath. "That's very nice of him."
"Yes. Nice," said Miles. And then he directed himself to the nice man and said - again very loudly - "Thank you clean the peepee!!"
The man had the decency to pretend not to notice. Even when he wheeled away the bucket and Miles said again TWICE, "That guy clean the peepee" and "Thank you clean the peepee."
You gotta hand it to my little guy. He's got manners.